Samkalp IAS Coaching Center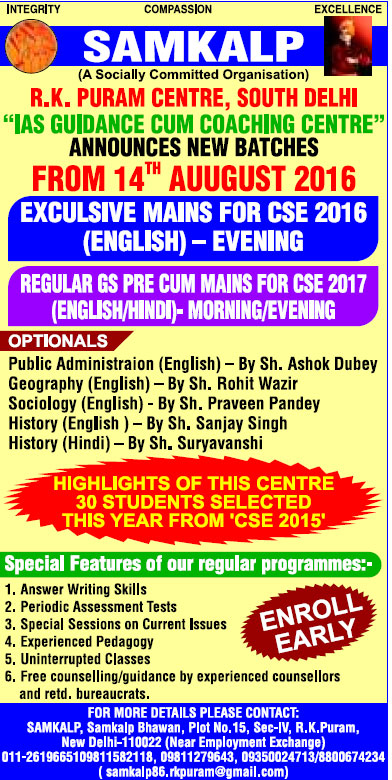 About Samkalp IAS Academy – UPSC Coaching Institute in Delhi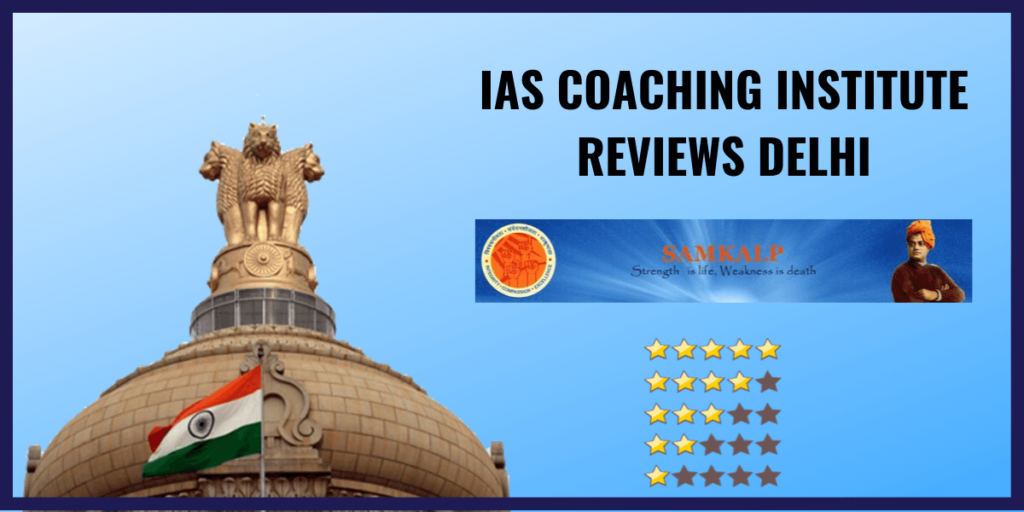 Samkalp IAS Academy is located in R.K Puram, Delhi. The institute is directly in contact with the generation that is now ready to take the reins of the country.
Candidates who come to Samkal IAS Academy for guidance and assistance belong to the age group which is preparing to step in as Civil Servants.
Civil Servant is a diverse category. It encompasses Foreign Service. Administrative Service, Police Service, Audit and Accounts Service, and many others and in due course some of them attain by training and experience extensive expertise in economics, education, environment, banking, commerce, international affairs, communication, etc.
However, Samkalp IAS Academy mentors believe that there is one basic quality which each person and more so a Civil Servant must possess and that is a character. He must be dedicated to his work with uprightness, values, and ethics in the cause of public service and public welfare.
It is the inspiring call of our motherland that must be deeply engraved in the heart of every Indian. So when a young person joins the Civil Service his goal should be to serve the motherland to wipe the tears from every eye, especially the poor and downtrodden.
The academy strives to instill this value in all the candidates, to rise above self and think of our country as a whole. Samkalp IAS coaching not only provides the students with the best faculties but also help them through the interactive classroom sessions. There are also the doubt clearing sessions which are a very important part of the preparation.
New Delhi: At a time when minority institutes like Jamia and Zakat Foundation are in the middle of a row over the rising number of Muslims cracking the Civil Services Examination, an #RSS-backed coaching institute, Samkalp Foundation, has claimed a 61 per cent success rate in this year's exam.
Of the 759 candidates picked by the Union Public Service Commission #UPSC to enter the civil services this year, as many as 466 had undertaken Samkalp's Interview Guidance Program (IGP), the foundation claims.#IAS
For the 34-year-old institute, grooming as many successful candidates, in whatever way, is hardly an aberration.
According to its website, as many as 649 candidates had enrolled for the IGP, out of the 990 candidates chosen by the UPSC in 2018. In 2017, 2016 and 2015, the numbers were 689, 648 and 670 against the total recruitment of 1,099, 1,078 and 1,236, respectively.
The number of candidates who actually get trained at #Samkalp from the preliminary examination stage all the way up to the interview is, however, said to be much lower, according to sources. The exact figures aren't available on the website, but insiders claim it would be 10 per cent of those who finally qualify.
https://english.madhyamam.com/india/466-out-of-759-candidates-cleared-upsc-exam-from-rss-backed-coaching-institute-570998
https://www.siasat.com/60-percent-of-civil-servants-associated-with-rss-run-samkalp-1918054/
https://timesofindia.indiatimes.com/city/lucknow/RSS-backed-coaching-mentors-IAS-aspirants/articleshow/49573960.cms
https://www.dailyo.in/politics/sangh-parivar-rss-bjp-narendra-modi-civil-services-ias-krishna-gopal-nationalism-samkalp/story/1/11047.html
476 of 829 successful UPSC candidates from a SINGLE COACHING INSTITUTE!!
When there are thousands of coaching institutes in India!
//
Must be #ActOfGod?? 😇🤔 https://t.co/v6Ud40U7yR

— Akash Banerjee (@TheDeshBhakt) September 15, 2020
The colour of Indian bureaucracy is changing fast. I would not be surprised if the country has a vast majority of totally conditioned civil servants in a decade's time. Rashtriya Swayam Sewak Sangh (RSS) has now expedited vigorously its plan that has meticulously been implemented for last 18 years to occupy the space in higher bureaucracy. The number of officers in Indian Administrative Service (IAS) with some affiliation with RSS has already reached an alarming level. Similar is the situation in Indian Police Service (IPS), Indian Foreign Service (IFS), and in other services such as Indian Revenue Service, Indian Railway Service, and Indian Forest Service. As per an estimate, around one-fourth of the candidates selected by the Union Public Service Commission (UPSC) in last few decades had turned to coaching centers run by RSS affiliates
http://www.millenniumpost.in/diabolical-designs-of-rss-111154
https://www.aninews.in/news/national/politics/amit-shah-to-deliver-lecture-on-national-security-to-civil-servants20190925213518/